Buying products from China online, what Sourcing Agents do and other things you need to know
You've decided to open your online store and ship products directly from China to your customers.
First of all, congrats on starting a new business adventure. 🙂
The idea you have is excellent, you've done your research, and you know that you can find customers for your product. Now, all that is left is to find a good supplier in China. While this might have seemed like an easy task at first, you're now realizing that there are many things you need to consider.
It is not easy to trust someone with potentially thousands of dollars in inventory if you just recently found them over the Internet. There are also the issues of cultural and language barriers, not to mention that they are located thousands of miles away from you.
However, to ensure your investment is a sound one, you need to find a reliable supplier, negotiate the terms and establish quality control. If you want to build your business on solid grounds, you cannot skip any of these steps.
But how do I find a reliable supplier?
Some people decide to find a supplier on their own. And many websites provide an opportunity for you to find a Chinese supplier (e. g. AliExpress, Alibaba, etc.) by yourself. These websites are in English, and you can search thousands of products in all the categories you can think of. If you choose a platform like AliExpress, the seller will even handle the shipping directly to your customer for you, so all you need to do is click around a bit, provide the address for the order and wait for the product to be delivered straight to your customer!
---
However, there are a few major issues with this method:
You often cannot choose the best possible shipping method,

You cannot check the quality of the product,

The lead time, which is the time the AliExpress seller needs to ship your product, can be very long,

If your customer makes an order from different suppliers, the products usually can't be consolidated into a single package, and, perhaps most importantly,

You're not getting the best price. It's true. When the sellers know they're selling to foreign buyers, prices go up. You can buy the same products that on AliExpress or Alibaba for a lot cheaper through local sources!
And you can't do anything to change any of this.
So how do I solve these issues when shipping from China?
We completely understand all the problems you're facing, because Afroz, our founder, walked in your shoes once. He encountered all the problems you're facing and had the same dilemmas you're having now. All these issues he had motivated him to build a company that will help people find the best possible solution for sourcing and shipping products from China for their business.
Sounds nice but how does that solve my problems?
Let's say that you've found a product on AliExpress. You bought it once, and you're happy with the quality of the product, but you hate the long delivery time and lack of shipping flexibility. I mean, wouldn't it be nice if you could include a little pamphlet in the package to build a relationship with your customer? Or perhaps consolidate two products from a single order from different suppliers?
You also can't shake this nagging feeling that you might be able to get the product for cheaper...
Well, now you can. And this is where we come in.
Use our Buying or Sourcing Service to save yourself time and money
That's right. Not only can we help you improve your logistics, we can also save you time and money with our buying and sourcing services!
So how does it work? Simple...
---
Send us product details

All you need to do is send us details or links to the products you want to buy or source.

We send you a quote

We will find one or two reliable suppliers and send you our offer. Very often, we can find the exact same product from other local suppliers for much cheaper.

Want us to move forward?

You like our offer? Great! Then…

We buy your goods

We will place an order for your goods right away.

Goods shipped to our warehouse

The supplier will send the goods straight to our warehouse.

We store your goods

Once we receive the goods, we will store them until you receive orders from your customers. Or, if you prefer, we can place the order only when you get an order… your call!

You receive an order!

We will set you up with an account in our shipping system and connect your store to it (if possible). This way, we will be notified as soon as you receive an order!

We pick and pack the order

We'll pick and pack the products for your orders. Good news, our standard boxes and packaging materials are FREE!

We ship to your customer

Based on your needs, we will choose the most suitable shipping solution for you and ship the package directly to your customer (or to you, if that's what you prefer).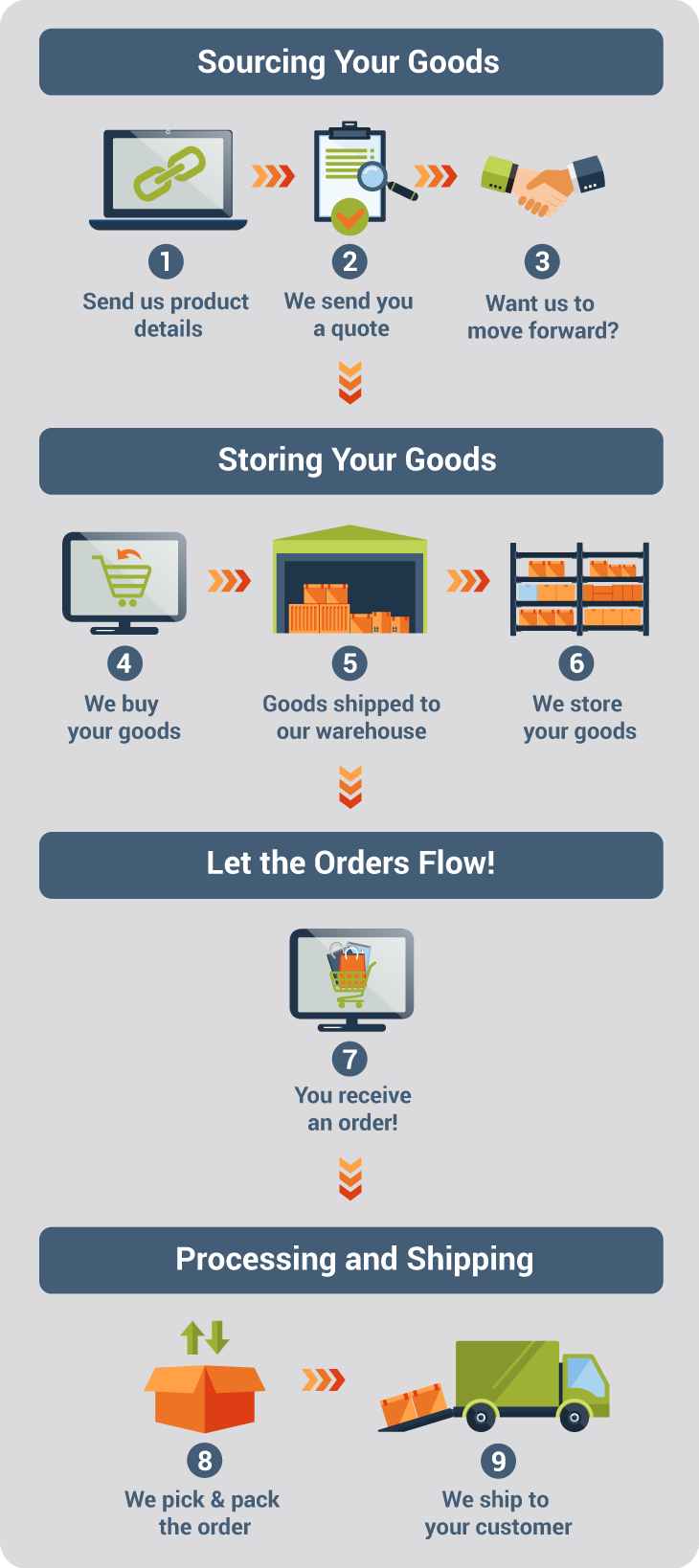 ---
Yes, it's THAT simple.
Besides, we'll hold your hand the whole way so you can be completely confident.
Source from China with Confidence
Look, I'm not going to lie to you. It's not going to be easy. Is it simple? Yes. Is it easy? No. It's never easy when dealing with suppliers in China. There will be problems along the way. You can count on that.
You know what else you can count on though? Us. We'll work to earn your trust. We're firmly in your corner here in China.
Besides, you didn't start your ecommerce business expecting everything to be easy, did you?
Go straight to the source.
Skip the middlemen.
Optimize your logistics.
Maximize your profits.
We'll be your partner along the way and help you scale your business to new heights.
Want to learn more?
Head on over to our quote request form and give us a shout! We'll help you buy the products you need from China or help you source from suppliers that will work with you as you scale your business. It doesn't matter if you want to source 1 item or 1000. We're here to cater to your unique needs.